Saker Collapsible Snow Removal & Ice Scraper
Saker Collapsible Snow Removal & Ice Scraper with versatile uses for snow or outdoors. It is an indispensable and important tool for removing ice and snow from the car.  The scraper is great for clearing a path in front of your car. In addition, the Ice Removal Tool is the best item you can buy for a ski trip. If you are trapped in the snow, it will definitely save you a lot of time.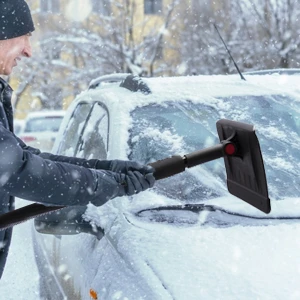 FEATURES:

 
⛄【 4-IN-1 DESIGN 】: Saker Collapsible Snow & Ice Removal Tool with squeegee has four functions: snow removal, frosting removal, shoveling ice, and wiper protection. Car snow broom saves you time and money. This snow brush and ice scraper extendable can be used on the vehicle's windshield, roof, windows, and entire vehicle surface.
⛄【 DURABLE & STURDY 】: Saker Collapsible Snow & Ice Removal Tool is made of high-quality solid ABS material. It is more durable, more stable, and has a long service life. Don't worry about breaking, it will accompany you through many winters.
⛄【 NON-ABRASIVE, SUPER-STRONG NYLON PADDLE 】: Specially designed paddle with an anti-freeze additive to withstand the cold, and an EVA foam sleeve that prevents the paddle from scratching your finish. It can be used as a snow shovel, snow brush, ice scraper, four-in-one cleaning tool, and soft scraper rubber head, never damaging your car paint or smooth surface.
⛄【 SAVE SPACE 】: Saker Snow Scraper is easy to store. Just keep it in the trunk or even on the floor of your backseat or passenger side seat. Its compact size allows it to take up minimal space in your garage or tool shed during spring, summer, and fall.
⛄【 ERGONOMIC DESIGN 】: Using dual foam hand grips, you can comfortably clear your car, truck, van, SUV, and RV's windshield from all winter debris.
SPECIFICATIONS:
Material: ABS
Weight: 970g
Colour: Black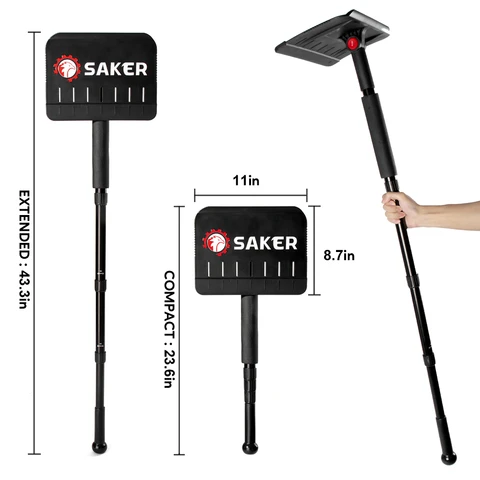 PACKAGE:
1 * Saker Collapsible Snow Removal & Ice Scraper (Depends on the quantity purchased)