Saker 1080° Large-Angle Rotating Splash Filter Faucet
FEATURES:
1080° Large-Angle Rotating:

 

Robotic arm water nozzle faucet adaptor splash filter kitchen tap extends, can reach every corner of the sink for easy cleaning.

2 Water Outlet Modes Design:

 

The faucet aerator has a soft bubble stream and a strong sprayer shower, twists the aerator changes the water dispensing method.
Superior Material:

 

Using high-quality materials with good copper and stainless steel, it is not easy to rust but safe and durable making it last for the years to come. The chrome finished surface is well polished and electroplated, bright, and shiny after long use.
Easy to Install:

 

Directly installed by hand without tools, done in seconds. If your faucet features female thread, please use the adapter before installation ( Adapter included ).
Multi-Purpose:

 

For kitchen faucets, it is helpful for children to clean their hands and fruits and vegetables; for the bathroom sink, you can wash your hair and face more easily. At the same time, the faucet adapter can be more convenient to clean the sink.
Product caliber:

 

24mm outer fine wire, 22mm inner fine wire, 20mm inner thick wire.
SPECIFICATIONS:
Materials: Copper, ABS
Size: ‎95mm x 30mm x 25mm

Weight: 150g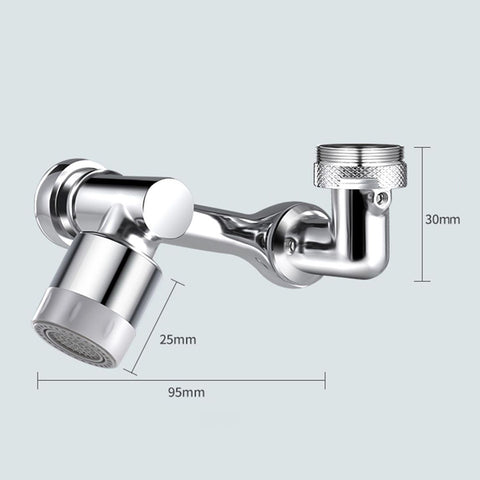 PACKAGE:

1* Saker 1080° Large-Angle Rotating Splash Filter Faucet